Dear Quail Summit Community,
Welcome to the 2016-17 school year. It is an honor to continue the excellence and tradition of leading a "school with a heart" as principal of Quail Summit Elementary. Quail Summit has a rich history of developing the whole child- academically, socially, and emotionally. Our dedicated teachers and staff all work collaboratively to ensure that every student is learning to his/her full potential. Our staff also holds the character development of every student equally as important. As Dr. Martin Luther King Jr. said, "Intelligence plus character-that is the goal of true education."
Quail Summit has a rich history and tradition of caring for every student through our motto, "School With a Heart." We are combining our history with innovation as we integrate STEAM (science, technology, engineering, arts, & mathematics) with our very own H.E.A.R.T.S. (humanities, engineering, arts, reading, technology, science & math) vision and implementation. Our focus this year is that Quail Summit is a school with a heart where students follow their H.E.A.R.T.S. to soar to new heights to innovate, to inspire, to empower and to empathize. With support from our district and our QS Community Club, we are able to build up our H.E.A.R.T.S. vision with Project Lead the Way and TEAL (Technology Enhanced Arts Learning). Through H.E.A.R.T.S. we are empowering students to use their knowledge and skills to problem solve, to innovate, and to pursue their passions and interests. Also, our H.E.A.R.T.S vision will guide us to integrate student learning with critical thinking, collaboration, problem solving and imagining possibilities through the implementation of STEAM in our curriculum.

As you walk down our hallways, you will notice all the accolades and achievements Quail Summit has received. Most recently, we have been awarded the 2016 California Gold Ribbon Award for our model practice in school-wide intervention and enrichment. We have also been recognized as a 2015 Honor Roll Recipient by the Campaign for Business and Education Excellence. Our past recognitions include the California Distinguished Award for 2014 and the National Blue Ribbon Award in 2007. These recognitions attribute and validate our teachers and staff's dedication and commitment to maintain a strong instructional program that is also grounded in developing creativity, critical thinking, and strong communication skills to empower our students to be college or career ready.
As we continue to move forward with full implementation of California State Standards, alignment to the new assessment, and STEAM integration, you will notice our students fully engaged in reading, writing, critical thinking, and collaborative work across the curriculum. Our students are also using technology to apply their learning and to gain experience using different technological platforms (Mac, PC, iPad, Chromebooks). Forward thinkers and prominent business entrepreneurs have repeatedly informed educators that students today who are equipped with creativity, collaborative work ethics, critical thinking and strong communication skills are the solution to tomorrow's complex problems. Our teachers and staff are dedicated to ensuring that our students are well prepared in these foundational skills (creativity, collaboration, critical thinking, and communication) which are evident in their classwork and learning environment.

Our parent community also supports our school mission to develop global citizens who are academically prepared, socially proficient, and emotionally secure through their active participation and donation of time and resources. Our teachers and staff truly appreciate the support and help they receive from our parent community.
I look forward to supporting and working with teachers, staff, parents and our wonderful students to continue to be the "school with a heart" that prepares our students to embrace their future with confidence and enthusiasm.
Sincerely,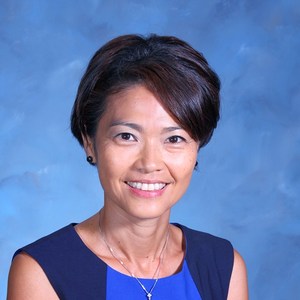 Jeanette Koh
Principal